I was visiting with my Aunty last week, this being my mother's sister. She's 13 years older than my mum to the day. The three of us were chatting, and seeing that I love to hear about 'the old'n days', we started to talk about various stuff.
The first being how rubbish used to be collected. I know, unlikely topic over a cup of tea and cake. My Aunty talked about how fit the rubbish collectors always were as they jumped over fences into each yard and ran the bins out to the trucks. I remember it too.

My mother said that every Christmas they would leave a few tallies (big bottles of beer) for each garbage

man by the front door as a gift ... good ole beer.
The next topic was Cloudland. Well, you should have heard the girls … like two little birds in a nest.

Both of their faces lit up. Mum chirped on about who and how many gents used to ask her to dance and my Aunty tweeted about the atmosphere and how completely and utterly fabulous it was. This is it pictured below. Loving the palms lining the columns. If only I could find some colour shots.
It had chandeliers, hard timber floors, elegant curtains, domed skylights (as you can see above) and decorative columns. The Upper level had seating so you could watch down over the dance floor, this being another draw card for its popularity to hold concerts

… and a

handy viewing deck to spot potential beau's
What an enormous room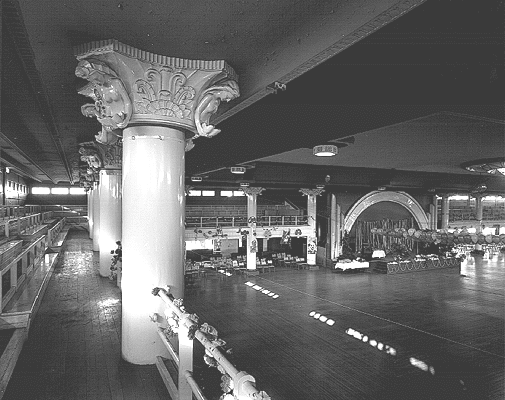 I wish I could dance like that, how romantic, elegant and thrilling to be in the centre of that ballroom twirling around. Let me just daydream a sec ... so if i could jump back in time and hit that floor in the 50's I'm fairly certain that i would choose to look like this
Wearing something along the lines of this
or this ... i'll have the car too
And dancing with a man that looked liked this
Who would then take me away to Paris so I could wear this
just had to work that last pick in ... love capes, and could Jon Hamm be any better looking? I don't think so. Spunk Rat 220%!
Built in 1939-40, this magnificent piece of Brisbane history was originally named 'Luna Park' with the original intention of building a fun park to the side of it.

Built high on the hill at Bowen Hills,

an 'alpine railway' was part of the design which would run up the hill from Breakfast Creek Road and would deposit passengers to the rear of the ballroom. With WWII breaking out, the premise was used as an American Military base and re-opened in 1947 as 'Cloudland Ballroom' and that is how it stayed until 1982.

I read that in 1948 Laurence Olivier and Vivien Leigh visited.
The Ballroom could be seen from various suburbs across Brisbane with the arch being illuminated at night. It was 18m tall. The ballroom was the host to thousands of dances and arguably the best ballroom and concert venue in the country. Buddy Holly being one of the main acts to grace it's stage amongst many others.
It was also used for students to sit their Uni Exams for many years.
Although there were protests and strenuous calls for its preservation, Cloudland Ballroom was demolished by the notorious Deen Brothers in November 1982. The demolition took place despite there being no permit. It happened in the still of the night with not a word of warning.

By sunrise all that was left of this incredibly significent building was rubble.
The street's were conjested and lined with destraught people who could not fathom that an icon could so quickly disappear.
As people reminisce, they talk about a time when the street's were safe to walk home. Women were wooed and courted, couples danced together, close, in unison with the music of the big band. If there's one thing my Mother says as does my Aunty, it's that those were the good years. The 50's/60's/70's, were, simply put - the best. I wonder if people will feel that way about the 90's and 2000's? What's our icon?